Innovator and Visionary in the field of sound, Dinky Dawson's genius has contributed to the success of many of the most prominent artists in the music industry.
Born in Worksop, Nottinghamshire, England, Dawson's life has been dedicated to music and his accomplishments in the field of live rock and roll are legendary. As a youth, he participated as a singer in operas and musical offerings in amateur groups, and, when the phenomenon of rock and roll affected British teens, Dawson became a Northern Soul disk jockey spinning records in clubs throughout England and Germany. Realizing the importance of technical production in this new music, he modified the band's equipment and became Fleetwood Mac 's tour manager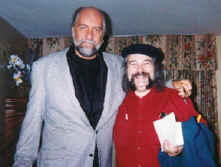 London England, on design and operation of WEM equipment, which was used by all British groups of the sixties era (e.g., Beatles, Led Zeppelin, Rolling Stones, Pink Floyd, Rod Stewart, Eric Clapton, Jimi Hendrix).
During the eighties, Dawson installed sound systems in clubs, such as the Paradise, Nick's Comedy Stop and the Channel (where he was also the Production Coordinator) in Boston, and was the sound contractor for the South Shore Music Circus in Cohasset, Massachusetts, working with artists such as Liberace, Carol Channing, Johnny Mathis, Burt Bacharach, Bill Crosby, and many more. He also installed audio systems at Harvard University, Bridgewater State College, and Ansche Chesed Temple. His tours included the Mamas and Papas and Rick James, and he also worked on several multi-media productions with dancer/teacher Sharron Weiner.
Permanent Installations and Consultations

TV and Radio Shows

Paradise Theater, Boston, MA
Don Kirschner's Rock Concert
Paul's Mall, Boston, MA
Thanksgiving at Sing Sing
South Shore Music Circus, Cohasset, MA
Ambrosia
Starfleet Studios, Boston, MA
Friends in Concert, Select Cable
Cape Cod Melody Tent, Hyannis, MA
Pop and Rocker Show
Channel Club, Boston, MA
Cousin Brucie Show
Wayside Inn, Chatham, MA
Nickelodeon TV
Necco Place, Boston, MA
New Kids on the Block at Disney World
Vertigo Club, Boston, MA
KISS 108 Fourth of July Concert

Ansche Chesed Temple, New York City, NY

Westwood One Broadcasts from the Paradise

Hub Club, Boston, MA

WBCN Club Simulcasts
South Shore Art Association Art Gallery, Cohasset, MA
Nick's Comedy Stop, Boston, MA
Twilight Series Concerts, Lenox, MA
Cabot House, Harvard University, Cambridge, MA
Reuben Gittelman Hebrew Day School, New City, NY

Special Shows

Videos

McGovern for President Benefit, Hickory Hill, VA
Thanksgiving at Sing Sing Prison w/ B. B. King & Joan Baez
Friends in Concert/Mamas & Papas and the Association
Kennedy Center, Washington , DC
Friends in Concert/Turtles and Gary Puckett
Avery Fisher Hall Concerts, New York, NY
New Kids on the Block - Hanging Tough
CBS Records Bahamas Convention
New Kids on the Block - Hanging Tough Live
ABC Records Convention, New York, NY
Kingdom Rise, Kingdom Fall
Georgio Sant'Angelo Opening, Macy's, New York, NY
WRKO Hatch Shell Spring Fever Concert
Boston Globe Jazz Festival, Boston, MA
Cranberry World Concerts (Ocean Spray), Plymouth, MA
Rick James at the Apollo, New York, NY
Hello Dolly with Carol Channing, Cohasset, MA

Major Label Audio Recordings/Books

Fleetwood Mac
English Rose, Then Play On, Kiln House, Chicago
Byrds
Byrdmaniax, Farther Along
Lou Reed
Berlin, Rock and Roll Animal, Live
Steely Dan
Katy Lied, Royal Scam, Aja, Greatest Hits
Orleans
Forever
Joan Baez
From Every Stage
Mahavishnu Orchestra
Between Nothingness and Eternity
Jonathan Richman
Original Modern Lovers
Chris Whitley
Terra Incognita
Fleetwood Mac

Shrine 69

on RYKO DISC

Life On The Road

:

Billboard Books with Carter Alan a Watson-Guptill publication